Skip to Content
Complete Gutter Systems in Richmond, VA
Homeowners in Richmond, VA, and the surrounding area have come to trust Ronnie Jenkins II Windows, Siding, Roofing and Gutters for all of their gutter installation needs. Our team has the experience and equipment to safely and quickly replace your home's gutters. Gutters may not be something you spend very much time thinking about, but they are a pivotal part of protecting your home from water damage. With over 15 years of experience installing gutters, you can trust our team to complete your installation quickly and correctly to ensure that rainwater is flowing away from your property. Contact our team to get started with a free consultation.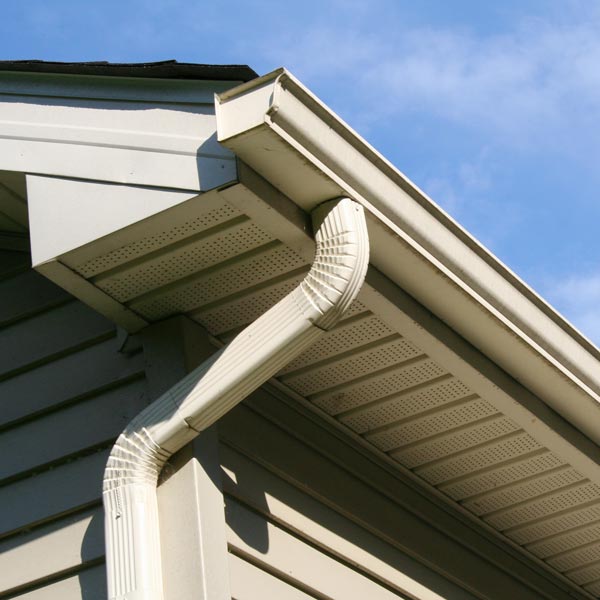 Why Are Gutters Important?
Nearly everyone home in the area has some form of gutter system, and for a good reason. On average, Virginia gets 44 inches of rain every year. Gutters are designed to collect rainwater and redirect it away from the foundation of your home. This simple engineering design is used to prevent water damage and various other issues with your property caused by water.
Preserves Your Landscape – When rainwater isn't properly drained away from your home, it can cause erosion. Gutter helps direct water away from your landscapes and hardscapes such as driveways.
Protects Your Foundation – Erosion can severely damage your home's foundation and structural integrity, which can lead to more costly repairs if not correctly dealt with.
Prevents Siding Damage – Without gutters, rainwater will spill over the side of your home and damage your home's siding. The problem is especially prevalent for homeowners with wood siding.
When Should I Replace My Gutters?
There are a variety of tell-tale signs that your home's gutter system isn't working correctly and is something most homeowners can do on their own without special tools or equipment. If you do notice any of these signs of a failing gutter system, it's important that you find a gutter system replacement specialist to prevent more costly repairs to your home. Some of the most obvious signs that your gutter needs to be replaced include:
Poor Water Flow
If your gutter isn't directing as much water as it used to, it may be clogged. Debris from leaves, pine needles, and twigs can create a damn in your gutter. We offer gutter guard installation to keep your gutters clean.
Physical Damage
A visual inspection of your gutters can tell you if they need to be replaced. If you notice any rust, cracks, or dents, contact our team of professionals today.
Puddles of Water
The most obvious sign that your gutters need to be replaced are finding pools of water around the foundation walls. It means that your gutters aren't directing water far enough from your home and can lead to erosion and water in your basement.
Gutter Replacement & Installation by Local Experts
Trust the experts at Ronnie Jenkins II Windows, Siding, Roofing and Gutters for your home's gutter installation services. We utilize the latest technology to ensure that rainwater flows away from your home and prevents damage to your landscaping and foundation. Our team chooses Spectra for all of their gutter system installation because of its color customization and high quality. We offer 5″ and 6″ seamless gutters and can even install a ShurFlow gutter guard to ensure your gutters don't back up. Contact our team today to get started with a free estimate.
Get Free Quote for Your Home's Remodel